Guest Services at PeaceHealth Southwest Medical Center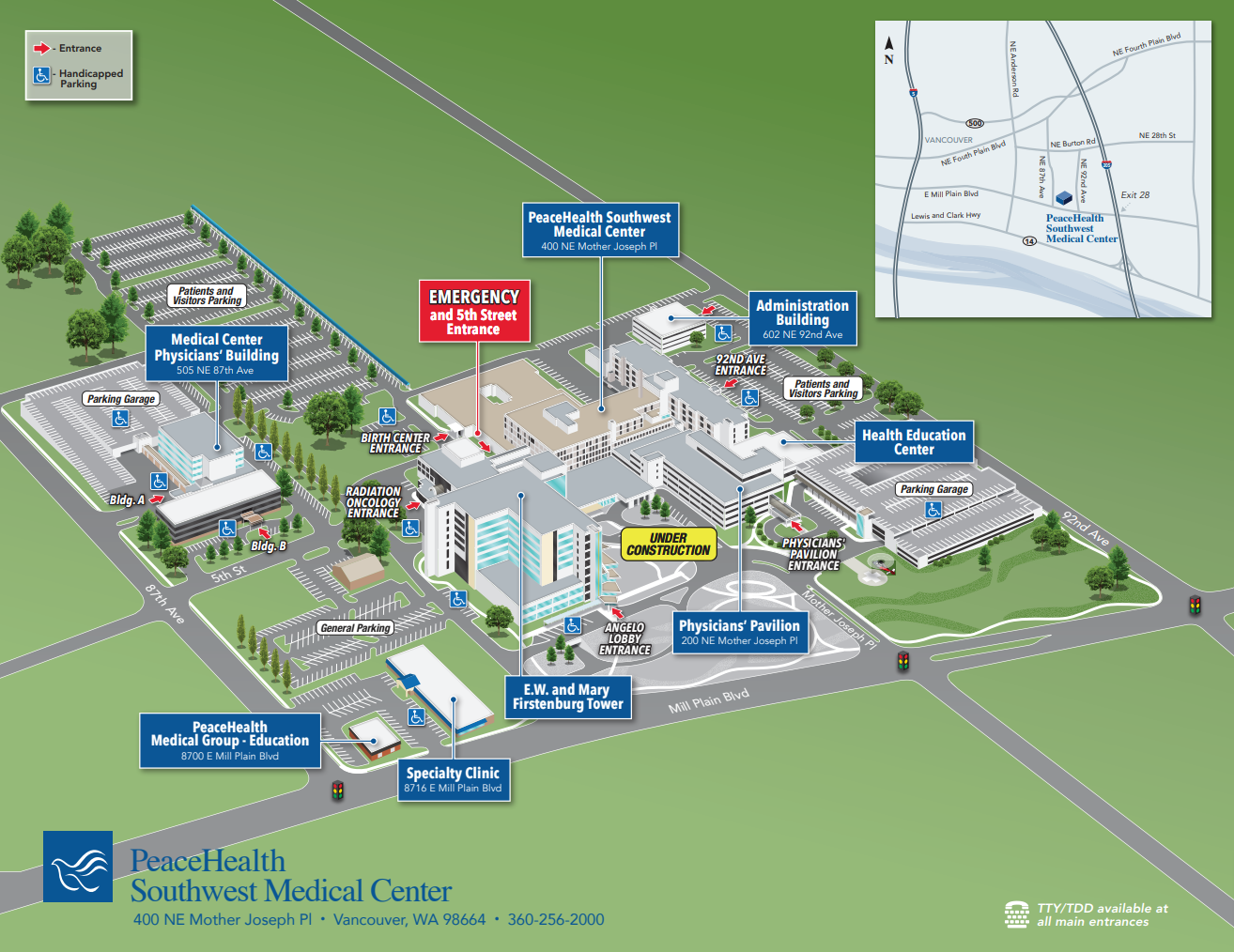 Visiting hours
General
8:00 a.m. to 8:30 p.m.
Some units have different hours or certain restrictions posted. Please check with an RN for after hours visiting.
PeaceHealth Southwest is a closed campus between the hours of 10 p.m. and 5 a.m. During this time, all visitors must enter and check in through the Emergency Department, located off Mill Plain Blvd.
Other units

Intensive Care (ICU) and Cardiovascular Intensive Care (CVICU):

Limited to family and/or chosen support person.
Visitors limited during shift change.

To arrange a visit, please use the telephone on the wall outside the unit entrances. The primary care nurse will arrange your visit according to the patient's needs.

FBC & NICU
Visitors are allowed based on staff discretion and patient desires, and according to the following guidelines:

Well siblings;
7 a.m. to 9 p.m. Open visitation for people 12 years old and older;
9 p.m. to 7 a.m. Limited to immediate family and/or chosen support person.
PeaceHealth Southwest is a tobacco-free campus. To protect your health and the health of everyone who comes to PeaceHealth Southwest, smoking is limited to smoking huts located outside of the building. Please do not smoke in any building, at any entrance or anywhere on the grounds except in the smoking huts.
General information
Gift shop

PeaceHealth Southwest has a fully stocked gift shop, with gifts, sundries and other surprises to serve our patients, visitors, and staff. Net profits from Gift Shop sales are earmarked for educational scholarships for students who are pursuing a career in healthcare. The scholarships are administered by the PeaceHealth Southwest Foundation.

The PeaceHealth Southwest gift shop is staffed and supported by generous volunteers from the Southwest Washington area.
Lost and found

If you find an item, please turn it in to the Information Desk in the lobby, or ask any employee for help. If you have lost an item, call Security.
Spiritual care

As a hospital of the Sisters of St. Joseph of Peace, our mission affirms our commitment to providing health care that encompasses the needs of the whole person—mind, body and spirit. The Spiritual Care Department cares for the spiritual needs of patients, families, staff and the institution as a whole.
Tour the Firstenburg Tower

The E.W. & Mary Firstenburg Tower represents the most advanced architectural and clinical design in the history of southwest Washington. It has become a showplace facility with patients from around the country coming to experience the extraordinary facility's built-in thoughtfulness. From private elevators to convenient family spaces, every detail was thought out during an intense design process that included physicians, staff and architects from Seattle's NBBJ, a global design firm dedicated to helping organizations create innovative places.

Before you step inside — Towering features

The eight story, 307,000 square foot tower has a distinctive façade featuring glass, stone, and concrete, and features a covered drop-off area for patients and families.

Step right in — Soaring space and elegant comfort

The lobby area offers a glorious amount of natural light and a sweeping overlapping wing-style ceiling design that extends beyond the lobby to continue the unique architectural theme outdoors. It features informational kiosks, cafe, resource center, outpatient pharmacy and lab services, registration, fireplace and designated space for musical performances and other entertainment, as well as holiday events.

When you need it most — Advanced treatment and care in easy reach

The tower houses major services of three of PeaceHealth Southwest's most experienced Centers of Excellence: the Heart & Vascular Center, the Bone & Joint Center, and the Brain & Spine Center. It features two dedicated open heart surgery suites, 13 new state-of-the-art surgery suites for trauma, general and orthopedic surgery, and five floors of private, single-occupancy patient rooms with accommodations for family and visitors (154 patient rooms).
Connecting to wifi

We are pleased to provide complimentary wireless Internet access for our patients, guests and visitors. Follow the link below to view instructions for connecting.

Patient information
Admissions

Emergency patients

Proceed immediately to the Emergency Department. Patient Registration staff will obtain necessary information in the Emergency Department.

Mothers in labor

Proceed immediately to the Family Birth Center. Most maternity patients pre-register, so the amount of information necessary when you arrive is already in the computer system. Patient Registration staff will come to your room to obtain any additional necessary information.

Outpatient diagnostic imaging (X-ray) patients

Proceed directly from the 5th Street entrance to the Outpatient Diagnostic Imaging department on the second floor. You will find Patient Registration stations there to the to make your registration easier. (Outpatients Diagnostic Imaging services are also availalbe at our Vancouer Heights and Fisher's Landing locations.)

Scheduled procedures, including surgery

 Proceed directly to Surgery on the second floor of the award-winning Firstenburg Tower. (See exceptions below)

In most cases, you will be pre-registered, so the information we will need should already be in our computer system. Patient Registration staff may come to your room if you were not pre-registered for your service.

Exceptions

Heart surgery: Proceed directly to the Heart & Vascular Center on the first floor of the Firstenburg Tower.

Eye, dental, and urology surgeries; other procedures: Proceed directly to Short Stay Unit, second floor of the Mother Joseph Building.

You should receive a pre-admission packet from your physician's office if you are being admitted for a scheduled procedure. All the information you need is in the packet. If you need a packet or assistance filling out the form, please call Patient Registration Pre-registration at (360) 514-2099.

You should bring identification, your insurance card, and any other information requested by your physician or during the pre-registration process. You may wish to have a small amount of cash for incidentals, but we recommend you leave jewelry and valuables at home as your room may be unattended if you are having a procedure away from your room. If you do bring valuables, you should request to have them locked in the medical center safe during your stay.

To protect your health and the health of our patients, guests and staff, PeaceHealth Southwest Medical Center is a tobacco-free facility. Smoking is not permitted anywhere on the grounds. If you use tobacco products, nicotine patches or other aids are available to alleviate or reduce your discomfort. A physician's order may be required. Your nurse or caregiver can give you more information and assist you in obtaining these aids.

Pre-Admission Surgical Assessment

Studies show that patients who are well prepared for surgery usually recover faster. Through PeaceHealth Southwest's Perioperative Assessment Service (PAS), nurses help you prepare for surgery by letting you know what to expect and answering your questions. They'll outline the steps for admission, pre-surgical preparation, and go over current medications. If you are scheduled for surgery, call PAS at 514-4821.
During your stay

Find information to help you prepare for what you can expect at Southwest Medical Center.
Patient surgery status (SmarTrack)

Stay up to date on the status of a patient surgery at Peace Harbor Medical Center.
Interpreter and accessibility services

PeaceHealth Southwest Medical Center is an equal opportunity institution. We do not discriminate in admission, treatment, access, or employment on any basis including disability.

Interpreter services are available at no charge for the deaf and hard of hearing and for those who do not speak English.

For additional information, please contact:

Interpreter and Accessibility Services
P.O. Box 1600
Vancouver, WA 98668
(360) 514-2286 (voice) | (360) 514-4180 (TTY)
Balance billing protection

When you get emergency care or get treated by an out-of-network provider at an in-network hospital or ambulatory surgical center, you are protected from surprise billing or balance billing.
Advance care planning

Sharing your wishes for the care you want if you are critically ill can bring you closer to the people you love. Making your wishes known clearly in advance of a crisis is one of the biggest gifts you can give yourself, your family and friends.
Medical records

Some online records, including medications, test results, and procedures, are available in your MyPeaceHealth account, free of charge. Please visit the medical records page for other request options.