Guest Services at St. Joseph Medical Center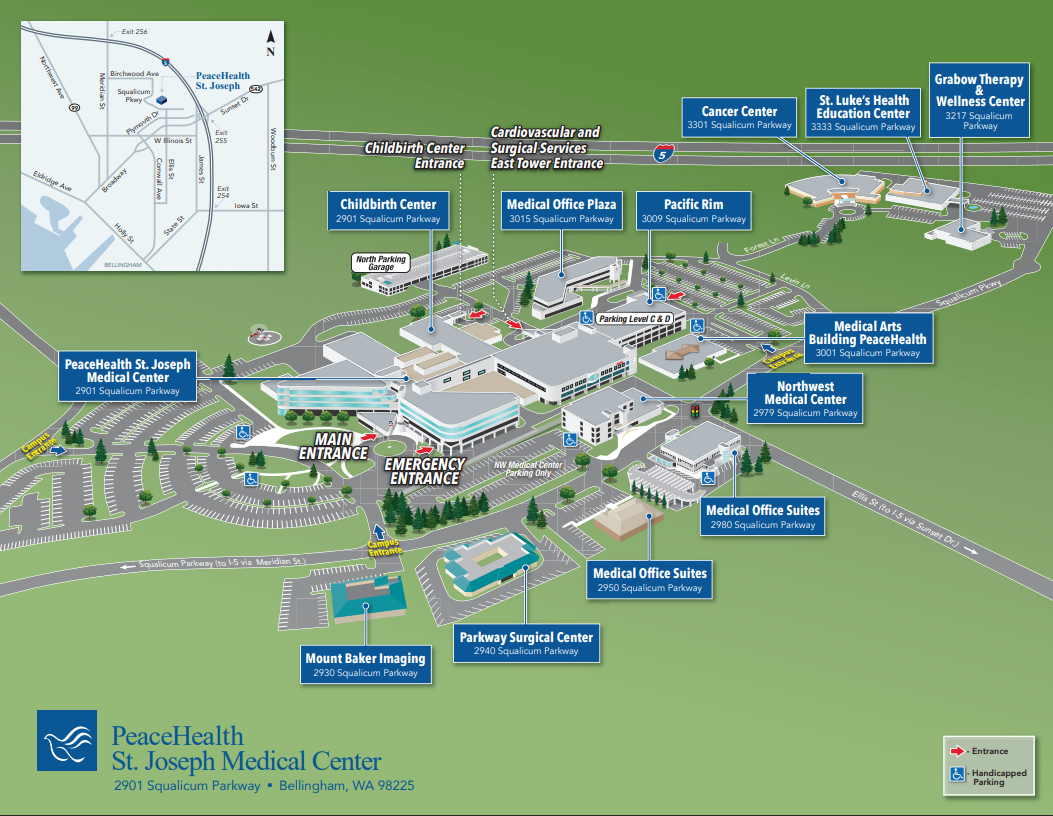 Entrance hours:
Main: 6 a.m. - 9 p.m. daily
East tower lobby: 5 a.m. - 9 p.m. weekdays; 8 a.m. to 6:30 p.m. weekends. 
Childbirth center: 6 a.m. - 8:30 p.m.
After-hours (9 p.m. - 6 a.m.): All visitors must possess a valid photo I.D. and sign-in with security before entering the hospital through the emergency department lobby.
PeaceHealth St. Joseph Medical Center is a tobacco-free campus.
General information
Parking

Parking is free in visitor sections.
Lock your vehicle and do not leave valuables in your car, especially at night.
Visitors may find more parking available before 11 a.m. and after 4 p.m. 
Where to eat

Cafeterias are open to families, visitors and the public.

Main Campus 

Cafeteria hours: 6:30 a.m. to 7 p.m. everyday.
Espresso bar hours: 6:30 a.m. to 2 p.m. Monday - Friday
Vending machines: Soft drinks, sandwiches and snacks are available 24 hours a day near the cafeteria, in the emergency room lobby, off the East Tower lobby and the Childbirth Center lobby.

The full-service cafeteria is located on the Ground Floor, featuring:

grill (including breakfast)
salad bar
made-to-order sandwiches
buffet
snack items
beverages

*Note that restrictions may be in effect during the COVID-19 pandemic. Please check at the front desk for details.
Spiritual care

Our Spiritual Care team understands healing can sometimes need presence and conversation, as much as medical procedures. We honor everyone's path toward wellness and healing, no matter their religious or spiritual beliefs. We support all through difficulty, grief and loss. Spiritual Care services are available 24 hours a day, seven days a week.
Gift Nook

The Gift Nook at St. Joseph Medical Center is pleased to serve our patients, visitors, and staff by offering a large selection of locally made gifts, flowers, candy, sundries and much more!
Connecting to wifi

We are pleased to provide complimentary wireless Internet access for our patients, guests and visitors. Follow the link below to view instructions for connecting.
Lost and found

If you find an item, please turn it in to the Switchboard or Information Desk on the Ground Floor, or ask any employee for help. If you have lost an item, call Security, ext. 2501.
Patient information
During your stay

Printed informational materials are available for every patient at PeaceHealth St. Joseph Medical Center. These materials are designed to make your stay as comfortable as possible and to let you know what to expect during your stay. They explain services that we offer and that you may be unaware of.

If you ever have questions about a procedure, your physician, medication, or anything about your stay at PeaceHealth St. Joseph, please ask! We want you to be informed, comfortable, and clearly understand your care.
Guest lodging

At PeaceHealth, we realize being near your family or loved ones during an extended hospital stay or surgery is important. That's why PeaceHealth St. Joseph Medical Center and participating hotels and motels near the main campus of the hospital offer discounted rates for visitors.
Patient condition & surgery reports

It is our goal to keep families and visitors informed in a timely manner about the status of a patient's treatment. We appreciate your patience since many lab tests and procedures take time to complete.

When you have a family member going to surgery, a specially-trained Guest Services Coordinator will work with you to assure that you are able to visit with your loved one before surgery, that you will be notified of changes and delays that may effect the surgery schedule, and that you will be escorted to a post-op consultation with the surgeon. The Coordinator is the link between the operating room, surgeon, patient and family and is located at the East Tower Lobby. Amenities located there include coffee, tea, cocoa, magazines, books, newspapers, board games and cards.

To contact the Guest Services Coordinator, call ext. 7711.

It is helpful for patients to select one family member as the person to receive your medical updates. Questions from family or friends will be referred to that contact person.
Waiting areas

Main Campus: 

Solariums located on floors 2, 3 and 4 are specially designated lounge areas for visitors and patients.
The East Tower lobby is the waiting area for surgical services, some cardiovascular procedures and most other services on floor 1 other than the emergency room. On Floor 2, a waiting area is located near the Medical Care Unit. The Cardiovascular Center has its own waiting area on the 2nd floor as well.

South Campus: 

Staff will direct you to designated waiting areas. 
Advance care planning

Sharing your wishes for the care you want if you are critically ill can bring you closer to the people you love. Making your wishes known clearly in advance of a crisis is one of the biggest gifts you can give yourself, your family and friends.
Accessibility and interpreter services

Special accommodations

We make every effort to work with patients that may need special accommodations:

For the hearing impaired, TDD and telephone amplifiers are available. Dial 0 to request these services.
For the visually impaired, Braille is included on most signs throughout the hospital.
Accessible restrooms are located throughout our facilities.

Language Translation

Language translation for medical care is available 24 hours a day through Optimal Phone Interpreters for those who do not speak English. An Admitting Representative or nurse can arrange for this. In addition, a summary version of this guide is available in Spanish and Russian from the nursing staff. ​
Balance billing protection

When you get emergency care or get treated by an out-of-network provider at an in-network hospital or ambulatory surgical center, you are protected from surprise billing or balance billing.