Guest Services at PeaceHealth Ketchikan Medical Center
---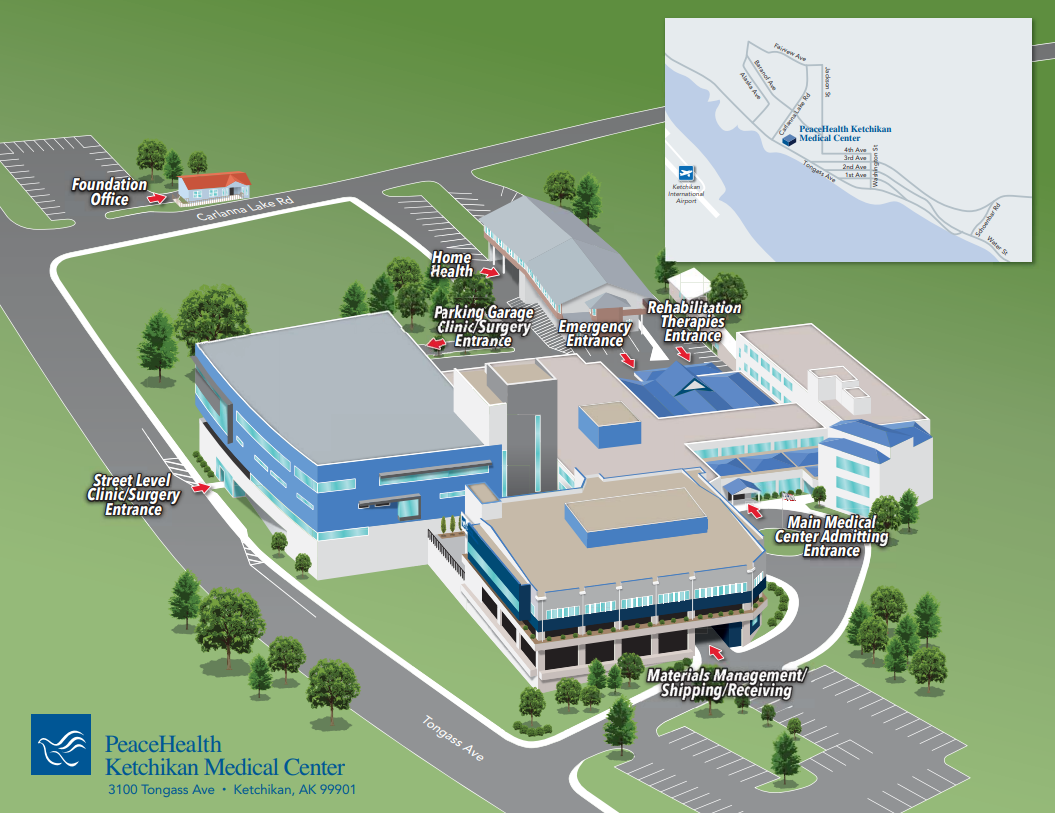 Our main campus is open from 6:30 a.m. to 8:30 p.m. Some units have different hours or certain restrictions.
The New Beginnings Birthing Center's normal visiting hours are 8:30 a.m. to 6:30 p.m. Please check for special circumstances.
PeaceHealth Ketchikan Medical Center is a tobacco-free campus.
General information
Parking is free. We have:
Limited parking available in our covered garage adjacent to the main entry.
Free parking available in our main lot. Turn right after you enter our campus from Tongass Avenue.
Parking available in a public lot across the street from the main hospital entrance.
Limited parking in a lot at the corner of Tongass and Carlanna Lake Road, adjacent to the PeaceHealth Medical Group clinics, and near the emergency entrance.
Please do not use the parking near the Emergency Entrance unless you are accompanying someone to the Emergency Department.
Our Spiritual Care team understands healing can sometimes need presence and conversation, as much as medical procedures. We honor everyone's path toward wellness and healing, no matter their religious or spiritual beliefs. We support everyone through difficulty, grief and loss.
We are pleased to provide complimentary wireless Internet access for our patients, guests and visitors. Follow the link below to view instructions for connecting.
Hours:
Monday - Friday, 11 a.m. - 4 p.m., and by special arrangement.
Parents of children are encouraged to stay in the room with their child overnight. Parents of newborns are welcome to stay in the New Beginnings Birthing Center. Family of critically-ill patients may stay in a nearby room (if available). Please ask a nurse to make arrangements for you.
Classes and support groups
PeaceHealth offers a variety of informative classes in Southeast Alaska.
If you find an item, please turn it in to the main reception desk on the Ground Floor, or ask any employee for help. If you have lost an item, please inquire there.

Patient information 
© 2023 PeaceHealth. All rights reserved.