Bellingham, WASH. — PeaceHealth Whatcom Hospice is proud to announce it is now a Level 3 Partner with We Honor Veterans, a program of the National Hospice and Palliative Care Organization. The progression to this new level demonstrates a high level of commitment to Veteran-centric care in the community.
As a partner, PeaceHealth Whatcom Hospice is providing specialized care to Veterans who are facing a serious illness. This includes a Veteran-to-Veteran volunteer program, training on conflict-specific medical and mental health concerns, and knowledge to assist Veterans in navigating VA benefits. Since partnering with We Honor Veterans in 2012, Whatcom Hospice staff and volunteers have performed more than 400 service recognition pinning ceremonies.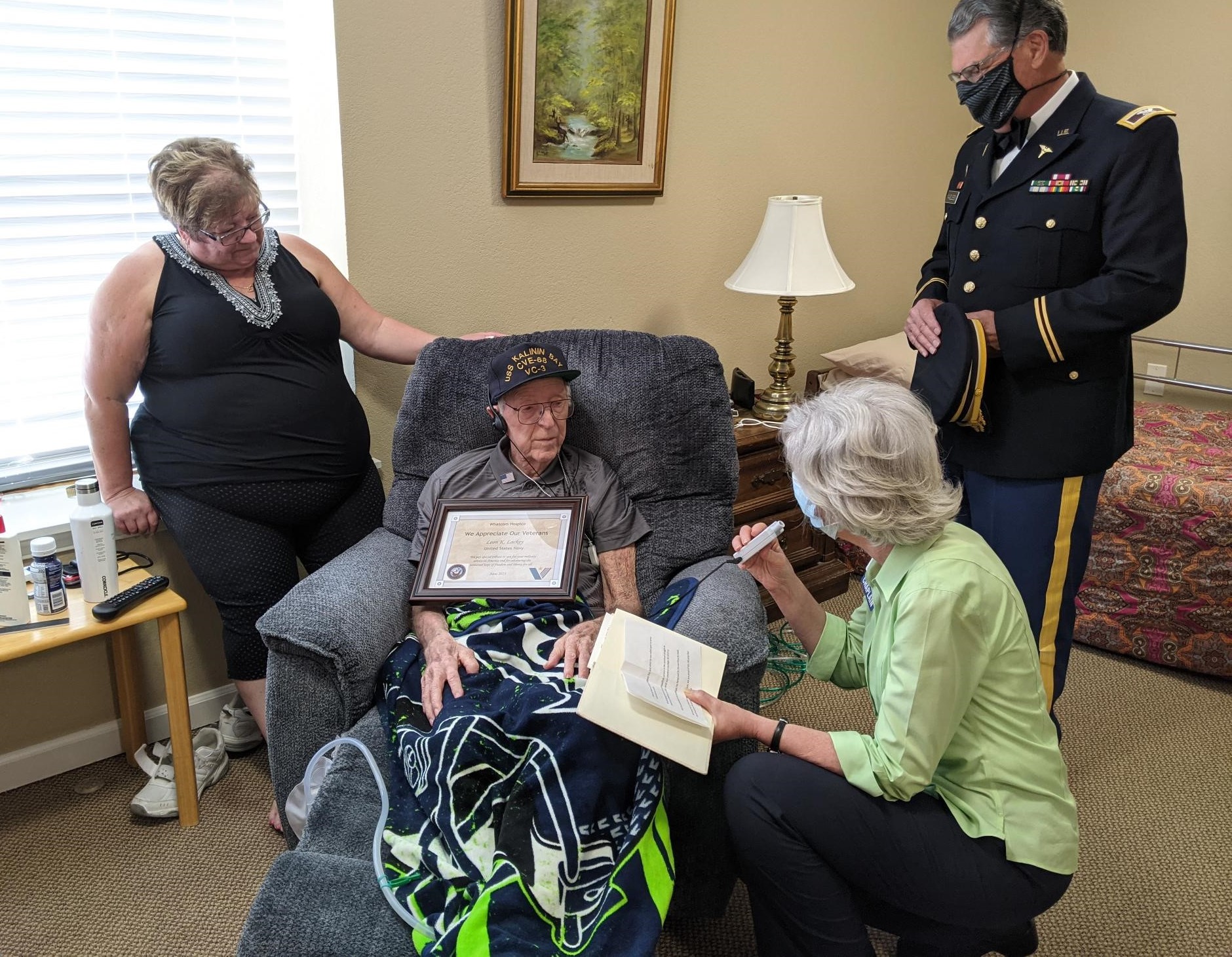 "At PeaceHealth Whatcom Hospice, it's important to us to provide individualized care that honors what holds value for each of our patients. This commitment is also what guides our care of Veteran patients," said Jodi Newcomer, nurse manager. "Our pinning ceremonies are a meaningful way for us acknowledge and serve those who have bravely served our country."
NHPCO and the Department of Veterans Affairs launched We Honor Veterans in 2010 to address the growing need for Veteran-centered care, especially as Veterans from different eras are aging and need access to Veteran-centric palliative and hospice care. Learn more about the We Honor Veterans program at www.WeHonorVeterans.org.
Learn more about the programs and services PeaceHealth Whatcom Hospice offers at www.whatcomhospice.org.
Photos featured above: 
Army Veteran Raymond Olson was honored for his military service during the Korean War by Military Volunteer Dave Magelssen. Raymond's family gathered for this very special tribute to him.
The hospice team gathered to honor World War II veteran Leon Lackey for his military service in the Navy. Leon's aircraft carrier was attacked by kamikaze pilots. Retired Colonel and Military Volunteer Dave Magelssen presented a framed certificate to Leon and pinned a flag pin on his shirt as his daughter, Deann, looked on. Hospice Chaplain Jennifer facilitated the event.